---

---
The Platinum Edition Comes with All 13 Episodes from "The Search for Sustainability" Docu-series (And Much More!)

Episode 1: Searching for Sustainable Solutions
Episode 2: Sustainable Food, Water, and Soil
Episode 3: Sustainable Health
Episode 4: Sustainable Education, Children, Families, and Parenting
Episode 5: Social Sustainability - Community Systems and Communal Living
Episode 6: Sustainable Medicine - Herbal Medics, Foraging, and Wild Edibles
Episode 7: Creative Sustainability through Art, Music, and Media
Episode 8: Urban, Suburban, and Rural Sustainability
Episode 9: Sustainable Energy, Buildings, Resources, and Systems
Episode 10: Sustainable Business, Economics, Finances, and Politics
Episode 11: Plant, People, and Animal Reverence through Sustainable Spirituality
Episode 12: Sustainability in Action - Where to Go from Here
Episode 13: (Bonus) Closing Message and Performance with Peia

---
You Receive All 49 Full-Length Downloadable Expert Interviews Which Includes Nearly 4x the Content that Didn't Make it Into the Series

13 SUSTAINABILITY FULL LENGTH EPISODES
Would you like to watch all 13 episodes at your leisure and benefit from the amazing content each of these episodes holds?  Choose your favorite option below to receive unlimited access in digital format or in physical DVDs delivered to your house - or both!
PLUS BONUS!


FULL WRITTEN TRANSCRIPTS OF EACH EPISODE AND ALL 49 INTERVIEWS
Now with the added bonus of written transcripts you can read every episode and study it carefully so you don't miss a single important piece of information that was shared throughout the entire series!
AUDIO RECORDINGS OF 13 EPISODES + ALL 49 INTERVIEWS
Would you also like to listen to all of the episodes in your car or on the go?  Then you'll enjoy being able to download all 13 episodes in audio format you to listen to at your leisure.
ALL 49 VIDEO INTERVIEWS


Including Audios and Transcripts
There was hours and hours of information that unfortunately could not fit into the full 13 episodes, so now you can have access to every FULL INTERVIEW including the audio recordings and transcripts that were created to make The Search for Sustainability documentary series.

---
Receive an Additional Downloadable Copy FREE to Give to Someone You Care About

When you choose any of the Gold or Platinum options to own The Search for Sustainability Documentary Series, we will give one free digital set away to any person you choose.
This is our way of saying "THANK YOU" and for helping support our mission to get this vital information out to as many people around the world as possible.
Your friend or loved one who you choose to receive the downloadable edition will have access to the 13 episodes, the mp3 audios, and the transcripts.
This is the Gift that Keeps on Giving!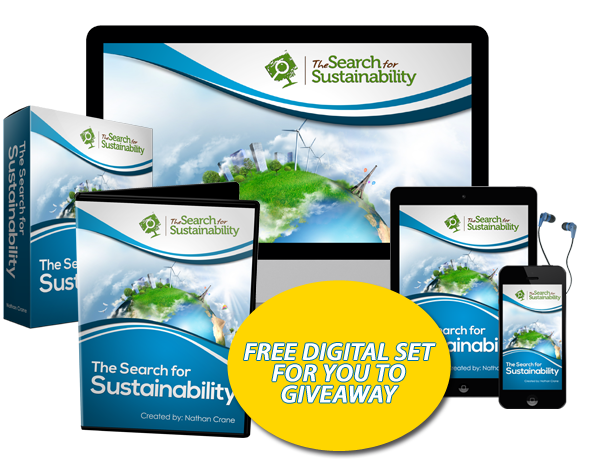 Support this mission and movement by making an intelligent decision to own The Search for Sustainability Documentary Series today.
Choose Your Preferred Ownership Option Below:

---

100% No-Risk 30 Day Money Back Guarantee!
When you order any of The Search for Sustainability Gold or Platinum Editions you are backed by our 100% money back guarantee.  We honor this guarantee for a full 30 days so if for any reason you want to cancel your order within 30 days we will give you 100% of your money back – no questions asked – that's our guarantee!

---
Real Comments from Real People Who Are Watching the Series:
This is wonderful!!!! So grateful, thank you Nathan

Lisa J.
America check this out and return our country to the glory it once knew. May GOD be with all of you.

Eugene W.
Thank for the series Nathan. I am loving it!!

Rupesh P.
Hi Nathan! Thank you so much for this series. I'm loving it. I would like to explore becoming a part of an intentional community like some of those featured in your series.

Carol A.
Kate Armstrong - the Urban Forager - featured in the film helped me realize that food, medicine and more is growing all around us and that we don't have to go to a grocery store or restaurant to feed or heal ourselves. The more we tap into the nature around us, the more we free ourselves from the system that is not serving us. Abundance is everywhere...food is nature...it GROWS...no matter whether we have time or money to garden or buy food, wild food is everywhere....we are surrounded by abundance! All we have to do is start working in harmony with nature instead of against it. And be patient and enjoy every new discovery...much love!

Kerry D.
I love the places that invite you to come explore, not for a fee but for community and growth. Lots of links to check out through these episodes. If anyone really doubted that sustainable human growth was possible at a time when continuiing with old technologies of profit over planet and people, Nathan has offered a great entryway into some of what's going on out there. We are Definitely a patchwork majority that needs to take heart and action in this knowledge.

Joni L.
Sure is a lot of inspiration in this one . As a homeschool mom biodynamic gardener homesteader who is tring to connect and provide an educational opportunity for people , I am grateful for the suppotive words of the diverse people speaking in thiese clips . I just oepened my gardens up as a Woof host aand am trying to begin a small cooperative community garden here where the educational aspect is valued . I do feel a shift of change in the winds these last few years which brings me hope .

Sharon C.
Again I am inspired! As you (Nathan) were contributing your closing thoughts, I pondered on the 4th commandment; "Honor thy Father and thy Mother." Why? Because I think of Mother here as Nature-- yes Mother Nature nurtures my body and I must honor it. And of course I honor the Father, the Being of ethereal matter that sustains the Universe and nurtures my spirit. Thank you again, Nathan.

Carmen R.
Thanks again, Nathan, for your contributioin to humanity´s evolution. All of these comments are good ones as they evoke a dialogue so necessary in our world today. I have just added to our list of virtual courses to be developed in spanish...Living a Sustainable Life/ Viviendo una Vida Sostenible. We will design it based on some of the issues raised in your episodes, plus other realities for latin american cultures. Thank you for the inspiration. Bravo & blessings...jan

Jan H.
Beautiful, hopeful and I see solutions... I see solutions everywhere! Can't wait for number three!

Lorena S.
Beautiful family Nathan and an ambitious endeavor! I continue to look forward to each episode for the grains of wisdom throughout. How did you choose the people and places for this? I'm grateful for your and everyone's involved efforts to bring this to the wider community. I'll continue to watch and Thank you again.

Joni Le.
Good stuff....enjoying all the informative comments and interviews Some good video s of scenery gardens etc I live in Brisbane Australia and have my own Vege com Herb garden which I eat out of every day. I use most of the greens etc in my smoothie every morning and mix with some fruit and ginger/garlic/Tumeric and flax seed oil and use Coconut water for the extra fluid needed. I am also learning to meditate every day with an 8 month course called Inner Peace and it is awesome working from day One. Love your work Nathan Keep it up

Leslie F.
I love the series very much so far. I am so wanting to turn my south-facing front yard into a garden, but I don't think it is allowed in the city where I live. I have started tossing red clover, alfalpha and other legume seeds out onto the "lawn" which is full of dandilions (which I love.) Thanks for doing the series!

Kate J.
Thank you again, great information, interesting, helps me to do even more, trying to do my part, back yard garden, supplies family and a few friends. Planning to expand within my financial limits. Thanks to your family also.

Bettye M.
Totally enjoying this series, Nathan! Thank you, thank you, thank you for all that you are doing for humanity and our beautiful planet. May the blessings that you send out to use be returned X 10!

Leanna H.

---
For Your Security Your Information is Processed on a Secure Server.  Our Company, Panacea Community, LLC Takes Great Importance in Keeping Your Information Safe and Never Shares it with Anyone.


---
Questions, Comments, Concerns?

Call or email anytime.

info@thepanaceacommunity.com

(877) 335-2683